What Are Treatment Options For Acne?
What Are The Different Types Of Skin Cancer?
What Is The Difference Between Botox And Dysport?
What Is the Procedure And Recovery For Injectable Fillers?
How Can I Protect My Skin From The Sun?
Most Commonly Accepted Insurance(s):
Aetna, AmeriHealth, Blue Cross and Blue Shield, Cigna, Clover, Emblem Health, GHI, Empire BC, Horizon BC, Medicare, Nippon, NYSHIP- The Empire Plan, Oscar, Oxford, QualCare, UMR, United Healthcare
The only way to determine your individual coverage is by contacting your insurance carrier. Your insurance card will have a members contact phone number.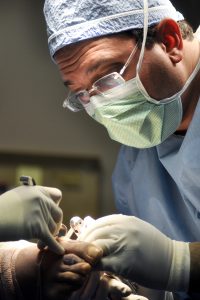 Dermatologic Surgery
Dermatologic Surgery
Excision
Like the skin biopsy…
Mohs Surgery
Mohs Surgery
More Info
Text
We use the MedLite® ND: YAG laser for tattoo and sun spot removal. Considered the "gold standard" among many physicians, this laser specifically targets and destroys lentigos (sun spots), tattoos, and other pigmented lesions without affecting the normal surrounding skin. Additionally, the MedLite laser offers multiple wavelengths – making it effective for a full-color spectrum and allowing for more customized results.
Sclerotherapy is a medical procedure used to eliminate varicose veins and spider veins. Sclerotherapy involves an injection of a solution (generally a salt solution) directly into the vein. The solution irritates the lining of the blood vessel, causing it to swell and stick together, and the blood to clot. Over time, the vessel turns into scar tissue that fades from view.
For smaller spider veins or broken blood vessels, laser ablation can be an effective alternative. A laser beam gently targets the selected area with a brief burst of light, destroying the blood vessels. Both sclerotherapy and laser procedures are effective, simple, and are relatively painless, and involve little to no recovery time.
Precancerous lesions / Skin Cancers
LET'S WORK TOGETHER. SCHEDULE YOUR APPOINTMENT TODAY!
We work as a single united team to give our patients the highest quality medical care possible.